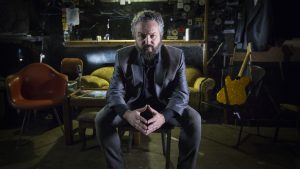 As Fernando's 2015 release, Leave the Radio On, was coming together one thing was clear early on in the process. This was going to be a different record for the Argentine-born troubador, best known for his velvety voice and tex-mex, country-tinged rock and roll laments. The 5 years that had passed since 2010's widely heralded True Instigator had been filled with health problems (a misdiagnosed hiatal hernia that nearly cost him his voice), causing Fernando to all but disappear from the public eye.  Convinced to return to the studio by his friend Peter Buck,  Leave The Radio On would mark a rebirth of sorts for Fernando, and he wanted the record to reflect that.
 In Fernando's words, "'Save Me' is the opening track, and we intentionally chose to make the mix dissonant and disconcerting to let folks know that this record was going to signify a new direction for us. My co-producer on the record Mike Coykendall is on the drum kit and it was one of the last songs that we recorded for the record."
The video, directed by Thorin Nielson and produced by Tim Scotten, beautifully portrays the tension and angst that permeate the track.
Check out the full album here