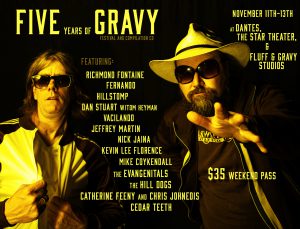 It's hard to believe, but this November will mark  the 5th anniversary of the first official Fluff and Gravy release!  To celebrate, we will be hosting a series of 4 concerts, over 3 days, featuring 13 bands (11 Fluff and Gravy artists + guests).  Venues will include The Star Theater, Dante's, and Fluff and Gravy Studios. In addition to the concert series, we will be releasing "5 Years of Gravy" – a compilation cd featuring unreleased tracks from our artists recorded throughout our 5 year history. The cd will be included in the price for a weekend pass ($35)
Keep your eyes peeled over the course of the next 2 months, as we will be releasing tracks from the cd and a pair of "Legacy Videos" for classic singles.
Check out the FULL 3-DAY LINEUP!
FRIDAY, 11/11, 8pm (STAR THEATER)
Hillstomp
Cedar Teeth
Mike Coykendall
SATURDAY, 11/12, 1pm (house show)
The Evangenitals
Catherine Feeny and Chris Johnedis
SATURDAY, 11/12, 8pm (DANTE'S)
Richmond Fontaine
Vacilando
Nick Jaina
Jeffrey Martin
SUNDAY, 11/13, 8pm (STAR THEATER)
Fernando Viciconte
The Hill Dogs
Dan Stuart (of Green on Red) with Thomas Heyman
Kevin Lee Florence
GET YOUR TICKETS!
The ticket link for the festival can be accessed here.
Thank you so much for making the last 5 years possible, We can't wait to begin our next 5. Hope to see you in Portland this November!