Hong Kong Banana – "Hard Times" video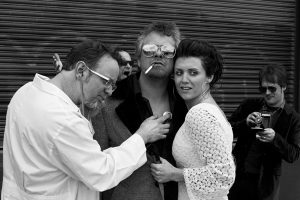 Fluff and Gravy Records is proud to present the official video "Hard Times", the first single from Hong Kong Banana's debut EP, Now, But Not NOW Now.
The song itself grew out of a riff that John had going for a while. According to frontman, Nigel Bubblesworth, the band wasn't particularly hot on idea, but John just "kept playing the crap out of it". In a moment of inspiration, the riff developed into a song all at once, with Nigel and Amora improvising lyrics and the melody. The song quickly grew to become a staple of their live set and it was a natural for the first single on the ep. When it came time to concept a video they contacted fellow Portlander Eli Thomashefsky who had been working on the set of Grimm. The concept for the video was something that Thomsashefsky had been mulling over for a while, and "Hard Times" seemed to be the perfect match for it.
When it came time to shoot the video, the decision was made to do it all over the course of a single day. Bubblesworth comments that "even though I had almost no sleep and it was 16 long hours, I somehow found the whole experience exciting. It was really cool working with the crew that Eli put together". While the video features the band hitting the town, with stops at a video arcade, strip club, a barbeque, hot tub, and a fiesta, the band agrees that their favorite part was the live performance. Says Bubblesworth, "a guitar in hand, a set of sticks and a microphone to a band is like a fly infested blanket to Linus. Safe and secure".