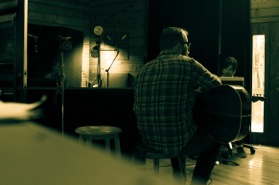 Fluff and Gravy Records is proud to welcome Kevin Lee Florence to the family. A native of Folsom, CA, Kevin now calls Portland home, where he has quickly integrated himself into the burgeoning Indie Folk scene. Raised in an environment that disparaged folk and country sounds, hearing Gillian Welch's Soul Journey for the first time, followed by a chance meeting with her in a Sacramento suburb was the catalyst the moved Kevin to take up the guitar and try his hand at songwriting.
In August, 2014, Fluff and Gravy will release Kevin's first solo record, Given. While the record is clearly a modern folk record, with the requisite finger-picking and lush harmonies (courtesy of his sister, Kelley Florence), there is something intangible between the notes where Kevin has carved out his own distinct place. The record features a roster of world-class musicians, including drummer James McAllister (Sufjan Stevens, Bill Frisell), and Garth Hudson (The Band).
You can see Kevin debut these tracks with a full band, including members of Parson Red Heads and M. Ward's band, at Dante's (Portland) on 4/18, as part of a Fluff and Gravy Records Showcase. Get your tickets here.