Kevin Lee Florence – Given
Now available on LP/CD/FLAC/mp3
Be the first to stream the full album here, this week only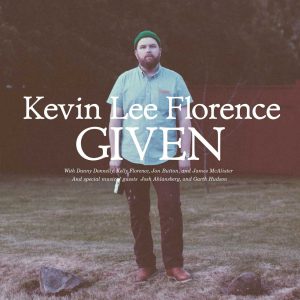 From a young age, Kevin Lee Florence was always singing – first in church, and then inadvertently around the house. It wasn't until his early twenties, however, that Florence picked up the guitar and immersed himself in Neil Young, Damien Jurado, Paul Simon, and a host of other folk legends, despite being raised in an community that disparaged folk music. He found inspiration in his father's vinyl collection and an inborn penchant for writing poetry, and gradually set about turning his passion into something viable.
It was only fitting that at age 22, a chance encounter with a Gillian Welch record in a Sacramento suburb spurred Kevin Lee Florence to consider creating his own music. Eleven years later, the Folsom, California native—now a resident of Portland, Oregon—is set to release his debut solo album Given via the local indie label Fluff & Gravy records.
Given represents the cream of the crop from his personally penned songs, along with two of Florence's favorite covers: Paul Simon's "Peace Like a River" and Damien Jurado's "Ohio." These gentle nods to two of his biggest influences help flesh out the simple, nine track record. Flecked with folk influences, finger-picked guitar lines and distinctive harmonies provided by his sister Kelly Florence, Given falls somewhere between Sam Beam's hushed, vivid folk and Simon's own conversational, quirky lyrical genius. The slow-burning hope of "Could Today be the Day" falls into a groove, and contrasts with harmony fanfare and drama on album closer "Kindness." For the more traditional minded, "Shining Shining" is pure pastoral bliss, with bright piano accents and lush harmonies. Through it all, Florence's understated, warm voice carries the record, wrapping you like a warm blanket on an autumn evening.
Recorded almost entirely live at Fivestar Studio, the finished album is a completely analog effort that features no digital processing. Fivestar Studios is located in the midst of L.A.'s artistic haven Echo Park, and the likes of Father John Misty, Dawes, Bonnie Prince Billy have recorded there. The album features a roster of world-class musicians, including bassist Jon Button (Sheryl Crow, Robben Ford), drummer James McAlister (Sufjan Stevens, Bill Frisell), and guitarist Danny Donnelly. Garth Hudson of The Band, Kevin's personal hero, is featured on two of the album's tracks.
"Given, the debut album by singer/songwriter Kevin Lee Florence, shows what a powerful thing it is to have a highly adept artist at the helm and a tremendously talented backing band providing additional instrumentation to that artist's creations.  He is further proof that the Pacific Northwest has a well of talent that is plentiful and untainted by the assembly line rubbish consistently spewed forth from the mouth of the mainstream music machine. " – No Depression
Prior to launching his solo career, Kevin led the Northern California band Silver Darling from 2006-2010. A few short months after forming, the band was approached by Davis, Ca-based Crossbill Record, with whom the band released the full-length' Your Ghost Fits My Skin' and the EP 'Wrap Around My Heart'. A mix of high energy Americana and dark slow-burners; the band toured the west coast extensively sharing the stage with Jason Isbell, Damien Jurado, and The Cave Singers among others.
Today, Given is available on LP/CD/FLAC or mp3 directly from Fluff and Gravy Records, Amazon or iTunes

Find Kevin Lee Florence here