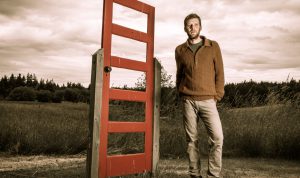 In November 2015, Whidbey Island farmer and folk musician, Nathaniel Talbot, released "Swamp Rose and Honeysuckle Vine". The record is more stripped down than his previous offerings, relying on his raw and immediate finger-picked guitar, supplement by upright bass and the occasional mandolin, fiddle or dobro. More often than not, Nathaniel's narratives take center stage, as is they do in "Born To".
Nathaniel explains… "We farmers tend to romanticize the past, perhaps to a fault, longing for  those simpler times when man was more in tune with the natural cycles of the land and skies. I'm guilty of doing so, even though i know very well that those 'simple times' only exist in our idyllic hindsight, and that every generation has had to grapple with their own uncertain technologies and new social norms which seem to threaten their existing relationships with nature and each other. That being said, I'm fascinated by human evolution and think it can be instructive to look back and learn from the cultural and ecological forces that drove the first 99% of our history, those that literally shaped the brains and bodies that we still carry today, mostly unchanged. The fact is that for tens of thousands of years we lived in small, tight-knit bands, intimately tied to the surrounding plants, animals and climate and bound by social contracts (political, spiritual, sexual) that would seem completely alien today. "Born To" attempts to remind us that we're physical and spiritual products of a time that we never really experienced, an idea that can perhaps bring comfort to those that often feel alienated by the modern world. "
The video was filmed live at Fluff and Gravy Studios by Kevin Hanzlik, and features Sam Howard on upright bass, and Anna Tivel on fiddle.