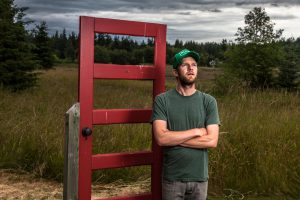 On November 20, Nathaniel Talbot will release his fourth full-length album, Swamp Rose and Honeysuckle Vine, via Portland's Fluff and Gravy Records. Nathaniel, who operates an organic vegetable farm on Whidbey Island, WA, works roughly 60 hours a week on the farm every year from March through October. As such, the songs on the album are intimately tied to the lush farmland and windswept vistas of Whidbey Island, deeply rooted in the earth and American traditionalism.
Swamp Rose & Honeysuckle Vine captures the raw, live energy of Talbot's guitar playing, and has a more stripped-down approach than his previous albums  – no drums, fewer string arrangements, and sparse vocal harmonies. Tracking guitar and vocals live and solo, usually in just one or two takes, Talbot then brought in his quartet of Portland all-stars, Anna Tivel (violin, vocals), Sam Howard (double bass) and Lincoln Crockett (mandolin) and Benji Nagel (dobro), whose auxiliary instrumentation is used intentionally and sparingly to great effect, filling in and conversing with the core of Talbot's playing and singing. "Challenging what folk music is capable of," says Seattle Weekly, "Talbot's powerful, uplifting voice harnesses a country twang complemented by lush acoustic finger-picking and a violin that feels like it was birthed next to a babbling brook in the mountains." Channeling the lyrical prowess and gritty charm of Anais Mitchell on tracks like "As the Way," and the concrete characterization in the work of Elliott Smith on tracks like "Able Man," Talbot stands on the shoulders of generations of folk musicians and Americana singer-songwriters before him. His approach to music feels like that of someone who treats it as a craft handed down and honed, like the tilling of soil or the carving of wood.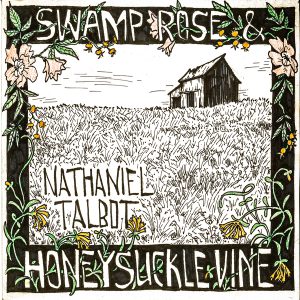 "It's a wealth of lyrical vision, complex guitar playing, and expert musicianship; a work about people's connection to one another through the earth,  disguised as a folk album about farming." – American Standard Time
"simple, pure, haunting" – Vortex Magazine
Listen to the record here!
Buy the cd or digital album here!