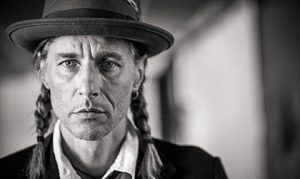 After years of finding inspiration in the California desert, Son of the Velvet Rat (SotVR) chose in 2013 to leave behind their impressive band history in Austria, and make their home in Joshua Tree.
Today, the band celebrates their new home with the release of their sixth album Dorado – a golden treasure of desert-inspired tracks produced by the critically acclaimed songwriter and producer, Joe Henry, with guest vocals by Lucinda Williams.
Alongside this latest album creation, the band catalogue includes collaborations with other luminaries such as Lucinda Williams and former Wilco drummer Ken Coomer. Peter Jesperson, former producer & manager of The Replacements, put it aptly: "… beautiful and somber music, their lyrics are pure poetry."
The record is available now in physical and digital formats, including limited edition gold vinyl, hand-numbered to 100. LP includes gatefold jacket, insert, and download card.
"It is a record that you will always return to for comfort in dark moments, a soother, a fret blanket of an album… It's an Americana 'Blue Lines' by Massive Attack – you might not know it now, but in 10 years this will be the best record you ever heard in 2017." — Fatea Magazine
" Dorado is truly the first great album of 2017″— Coachella Valley Weekly
" Mesmerizing!"— MAGNET Magazine
"They pull together spots of light and hope in the midst of a great ragged emptiness and allow these bright moments to shape the rhythmic momentum that propels the song forward."— Nooga.com
"Imagine a late Dylan voice, maybe Tom Waits or Nick Cave mixed with the songscape of Brel and Brassens and it will put you in the right territory." —folking.com